Testimonials
April 15, 2011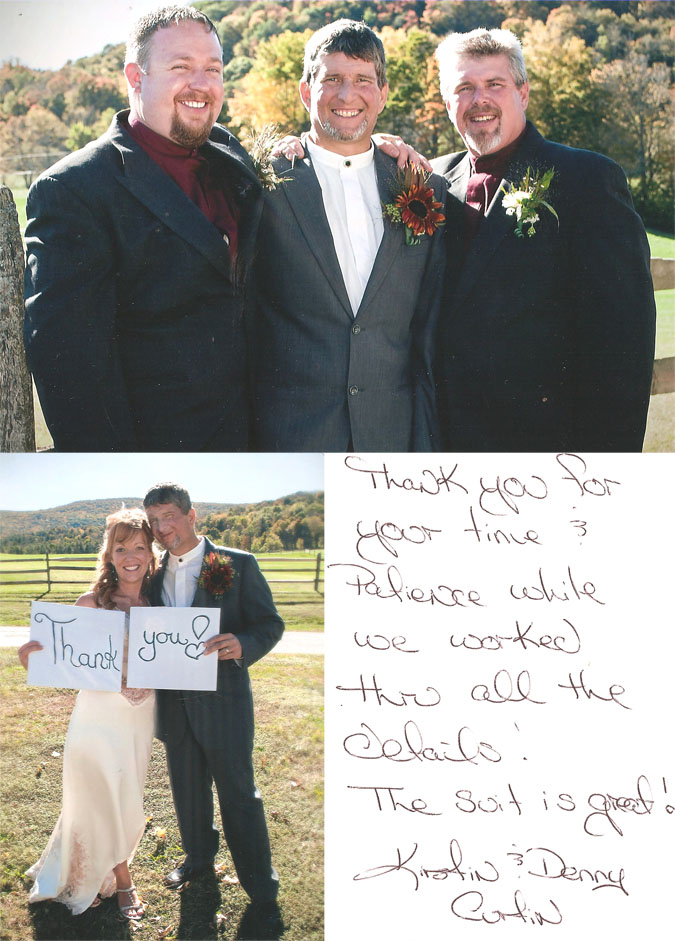 Thank you for your time and patience while we worked thru all the details! The suit is great!
Kristin and Denny
* * * * *
July 12, 2006
Dear Steven Valenti's
Another true story.
At the sudden death of my father, my brother was in immediate need of the proper clothing for his service.  I didn't panic, I thought of Steve Valenti's.
With a quick phone call I spoke to Doris, and I knew we would be in good hands.  A few questions about what he would need and sizes, I continued down the Turnpike to my family home.  When my brother arrived at the store a short time later, Doris had already chosen everything he needed: trousers, shirts, a tie.  She even made sure he had a belt and socks.  When I spoke to my brother a few hours later, he was on his way back to the store to pick up his tailored trousers.  Doris had even offered to press the shirt so that they would be ready to wear.
My brother was able to attend my father's service respectfully attired.
When you look up customer service in Webster's Dictionary they only need to write two words: Steven Valenti's
Gratefully,
Carol A. and Peter G.
* * * * *
March 18, 2010
Steve,
Thanks for helping me to improve my wardrobe "portfolio."  You are the king of service and you really know your stuff.  I should have been getting your help more in the past, and you can bet I will in the future.
See you soon,
Dave M.
Colt Investment
* * * * *
March 15, 2006
Steven,
Just a quick note to thank you again for a wonderful shopping experience! You, Pam, and Sam have friendliness, fashion sense, and service down to a science. You know, with all the options we shoppers have, I still prefer to make the two hour drive to see you guys; it's more like stopping by a friend's house than going shopping, and it's always the highlight of my day.
Keep up the great work, give Pam and Sam a big raise and know that you are much appreciated.
My Best,
Todd S.
* * * * *
Berkshire Eagle
June 19, 2008
Clothing store with heart, soul
I had the privilege of bringing my son to Steven Valenti's this past month and having the best experience from an elegant clothing store that is humanly possible.  Why should I be telling you this?  My son was going to the prom.  Why is this so different from any other person's child who goes to the prom?  Well it's not all that different except my son is special needs.
Steven Valenti's is without a doubt a store with heart and soul.  I was very nervous bringing him in there, not knowing how we would be treated, if they would want to deal with someone who can have differences in the way he says (loudly at times) or does things, getting stares from other patrons and workers at the store. They were totally understanding and caring and did it with smiles on their faces the whole time.  His autism did not matter.
The store treated myself and my son with the utmost respect and love, fitting him with a tux (to die for, by the way) that made my Stephen smile ear to ear on the day he wore it!  Never once did they make him or myself feel like we should not have been in there and always made us feel most welcome.  Not only were Steven Valenti and his staff the most wonderful group I have ever been able to deal with but they did it with class!  Thank you Steven  Valenti and the ladies who helped make our Stephen's prom day the most memorable day of his life.
Sheila Lepotakis
Pittsfield
* * * * *
Steven,
Thank you for the incredible suits and other items.
My sales nearly tripled after meeting with you and your staff!
Remember Steve…
Look good,
Feel good,
Do good!
Love it!
Jeff K.
Remax Realtors